This ongoing series is a week by week overview of my media highlights. This week I talk about my love for "Logan", my disappointment in "Kong: Skull Island" and my new favorite YouTube channel!
At the Movies:
While not necessarily a hero in tights, "Logan" (2017)  is everything I want in a 'superhero' movie. Directed by James Mangold, the film takes the audience on a ride jam packed with action and emotion at every turn. I enjoyed the moments between Logan and Charles Xavier. Our blockbusters are dominated by these larger than life superhero movies and it was extremely refreshing to have a Marvel movie more grounded in the roots of human interaction rather than cheap one-liner bits of dialogue. Perhaps it's the advantage of having 17 years worth of X-Man films or maybe James Mangold's influence on the screenplay (he also wrote "Girl, Interrupted" (1999), a film that is riddled with great character development, ..and "Oliver & Company" (1988), one of my childhood favorites) but "Logan" find its strength in the screenplay. The compliments don't end here though, the stunts and action sequences are groundbreaking, especially within the final act. However, as these sequences impress, the balance the film introduces begins to falter and action begins to overpower the heart of the story. But overall, this personal observation is very minimal and not enough from keeping me from seeing it again in theaters. This film is definitely a required theater experience.
For an in depth refresher on where Logan takes place in the X-man universe, this video from Cinefix is really helpful.
YouTube:
Lorde's new single, "Green Light" was released on YouTube on March 2 and I have been obsessed with the music video ever since. Here, take a look for yourself.
Directed by Grant Singer, the video follows Lorde sing, dance and listen to her own song through headphones down the city streets. The premise is very minimal, as it does not include an overt narrative, but the colors and visuals are enchanting. Similar to the use of color in "La La Land," Grant Singer's direction highlights the mundane in a spectacular light. The song is catchy and uplifting, but I feel it really takes center stage when coupled with the music video. I've rewatched it several times throughout this week and enjoy it all the same each time.
Also on YouTube, Binging with Babish has evolved into my new favorite YouTube channel. Andrew Rea describes his channel as " the realization of a young(ish) man's dream to combine his love of film and cooking, and to have some fun in the process."
Each week  he releases a new video featuring a recreation of the foods featured in everyone's favorite movies and television shows. Some of my favorites include: Strudel from Inglourious Basterds and Kevin's Famous Chili from "The Office".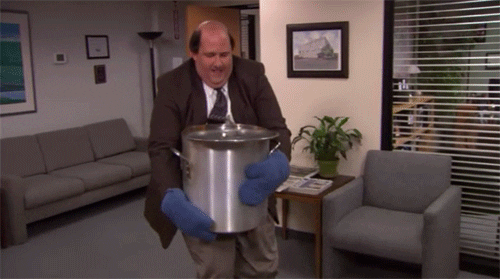 Not only do I enjoy his content, but the production of each video is just so professional. Binging with Babish is a really well done channel that I can't get enough of.
Now on Netflix:
"Love" is back!
Courtesy: Netflix
I enjoyed the quirky awkwardness of the first season and am really excited to binge the rest of season 2. Currently I am only 2 episodes deep within the 12 episode Netflix original series and I am proud to say the season is not disappointing. I was also excited to find out that Netflix has already signed on for a third season. 
"Love" follows nice guy Gus (Paul Rust) and brazen wild-child Mickey (Gillian Jacobs) as they navigate the exhilarations and humiliations of intimacy, commitment, love and other things they were hoping to avoid." – Oriana Schwindt, Variety
Rewind and Rewatch:
"Ex Machina" (2014) – So enchantingly futuristic but also grounded in our very present desires. Also, this scene rocks: 
Not so hot:
"KONG: Skull Island" (2017) was a flop for me. The theater accidentally started playing "John Wick: Chapter 2" (2017) instead of Skull Island and honestly, after watching the film, I wish they would have just kept playing "John Wick". "KONG" was all over the place in terms of tone, prominent characters held no importance for the plot and it felt very rushed in order to show off every CGI creation that the big budget obviously went to.
The plus: Kong is huge and that's about it.